Practical Info

Venue
GRAND HOTEL PARK DUBROVNIK
Šetalište Kralja Zvonimira 39,
20000 Dubrovnik
Croatia
Tel: + 385 20 434-444
Fax: + 385 20 434-885
Website: www.grandhotel-park.hr
E-mail: sales@grandhotel-park.hr



How to get there (taxi, transfer, bus)
Many European cities are well connected with Dubrovnik – by regular or charter flights. Dubrovnik Airport info at www.airport-dubrovnik.hr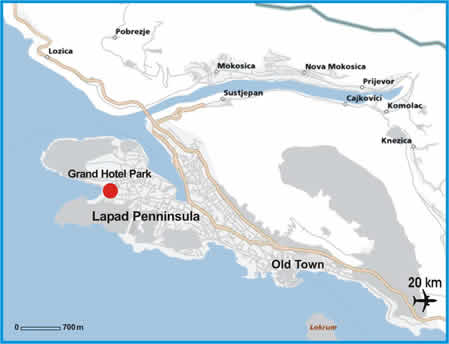 How to reach your hotel from the airport:

BY TAXI
You can easily take a taxi available during the operating hours of the airport directly to the hotel.
Price: between EUR 30.00 - 35.00

BY PUBLIC TRANSPORTATION
Bus transportation is easy.
1. Take a regular bus service from the airport to the city terminal in Dubrovnik: EUR 5.00
2. Take a taxi to the hotel: EUR 10.00 or a local city bus: EUR 1.40

Travel documents

To enter Croatia a valid ID card or a passport is needed, depending on international agreement between the countries.

Drivers must be in possession of valid documents for themselves and the vehicle, as well as the Green insurance Card.

Language

Croatian is the official language spoken in Dubrovnik. English is taught as a second language in schools. Other international languages are also fluently spoken.

Weather

The Adriatic Coast boasts a typical Mediterranean climate with hot dry summers and mild winters. It is one of the sunniest and warmest coasts in Europe with an average of 2,600 hours of sunshine per year and an average summer temperature of 27°C. The inland part is marked by continental climate with warm summers and rainy and/or snowy winters.

To check weather situation – please check National Meteorological Institute at http://meteo.hr/index_en.php

Time zone

Dubrovnik is in the European Time Zone (GMT)

San Francisco

Philadelphia

London

Dubrovnik

Delhi

Tokyo

09.00
AM

12.00
AM

17.00
PM

18.00
PM

22.00
PM

01.00
AM
Currency
The Croatian currency unit is the Kuna (HRK), made up of 100 Lipa.
1 HRK = 0.13 EURO I 0.09 GBP I 0.192 USD
100 HRK = 13.5 EURO € 50 = 366 HRK
100 HRK = 9.45 GBP L 50 = 529 HRK
100 HRK = 19.4 USD $ 50 = 258 HRK
Foreign currency can be exchanged for local money at banks, post offices and exchange offices, according to the valid rates of exchange. Banks and post offices are normally open from 8:00 a.m. to 8:00 p.m.
Visit the exchange office on the Web for valid exchange rates = www.pbz.hr/default.asp?akcija=E&jezik=2

Tipping
Tips in restaurants are expected, usually 10% of the service. In cafés and bars it is more normal to round up the amount of the bill. Taxi drivers normally do not expect a tip; for hotel porters an optional 10 kuna to 20 kuna ($1.70 to $3.40) is enough.
Shopping
Excellent purchases include articles made of leather, local hand-made lace items and embroidery, ceramics, herb brandies, etc.
Opening hours: department stores and groceries are open from 7:30 a.m. to 8:00 p.m., whereas some shops and groceries close for lunch. On Saturdays most shops are open from 7:30 a.m. to 2:00 p.m. In tourist resorts most shops stay open longer in the high season, including Saturdays and Sundays. Duty-free shops are located at airports.
A tax refund is available to foreign citizens for purchased goods exceeding 500 Kuna (HRK), providing that the form entitled "Porezni ček" (Tax Cheque) is stamped by a customs officer upon leaving the country.
For more information: visit Customs Administration of the Republic of Croatia website at: www.carina.hr

ATMs and credit cards
All major credit cards (American Express, Visa, Euro/MasterCard, Diners) are accepted at most businesses. Also, ATMs are widely located.
Safety
Although most of Croatia, and the city of Dubrovnik in particular, are considered to be fairly safe for tourists, all people traveling abroad in any country need to take some precautions in order to avoid becoming a victim of the tourist-aimed crime that seems to affect more and more travelers all the time in European cities. When visiting Dubrovnik and around, try to avoid carrying more cash than you need, especially if you are out shopping or visiting attractions. Do not wear expensive jewellery, and if staying in a hotel be sure to make use of your hotel's safe for your valuable items. Men should not carry wallets in their back pockets and women need to pay close attention to their bags while shopping and dining. Backpackers should keep their packs locked, especially while they are wearing them. Also, be especially alert in bus stations, museums, and other places where large numbers of travelers congregate.
Medical services
Medical care for foreign visitors is provided at hospitals and clinics in all major cities in Croatia which is a member of the Europe Assistance Medical Services System.
Calling
International phone calls are easily made from hotel rooms and post offices. Phone cards are available from post offices and kiosks. Communication by cellular phone is possible throughout Croatia.
Postal services
Post offices are open from Monday through Friday from 7:00 a.m. to 8:00 p.m. Saturdays from 7:00 a.m. to 1:00 p.m. Stamps are sold at post offices, hotel receptions and newspaper and tobacco stands. TNT, DHL and other air-express carrier services are also available.
Electricity
220 V, 50 Hz
Car rental service
Cars can be rented at the airports, in towns and in all major tourist resorts.